*Don't mention how long it's been. Don't mention how long it's been. Don't mention how long it's been.*
Gee, it's sure been a long time since I posted anything!
*Dammit.*
When I wrote about Friends
, I mentioned how many other great sitcoms there were in the '90s that were so much more deserving of the public's love.
NewsRadio
was one of these, despite the fact that it was on the verge of cancellation for its entire five-season run from 1995-1999.
Following a bit in the footsteps of
WKRP in Cincinnati
(1978-1982),
NewsRadio
rather predictably takes place in a juice box factory. Kidding. It's a radio station.
WNYX is New York's #2 talk radio station, struggling for interesting news and better ratings despite its challenging, ineffective, and hilarious staff.
New news director Dave Nelson (Dave Foley) stumbles into his job with no idea how difficult it would be; his first task the day he arrives is to fire his own predecessor, something he'd hoped the station owner, eccentric millionaire Jimmy James (Stephen Root) would have already done. But, as becomes obvious as the day goes on, he should've expected nothing less of WNYX.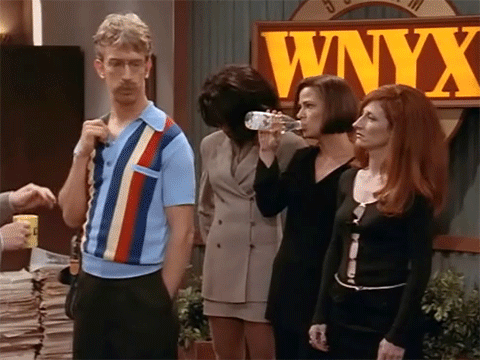 NewsRadio
is ruled by its characters, each as crazy as the next. There's Beth (Vicki Lewis), the sassy secretary, who barely wants to make coffee, let alone answer the phone or schedule appointments. There's Joe (Joe Rogan), the conspiracy-crazy handyman who would rather solve the station's technical problems with duct tape and recyled parts than buy anything from The Man.
There's Bill McNeal (Phil Hartman), the conceited on-air talent who thinks he's far more famous than he is, and Catherine (Khandi Alexander), the fellow anchor who's always happy to keep Bill's ego in check with a good slap in the face. And there's Matthew (Andy Dick), the incompetent, naive reporter everyone in the office loves to tease. Compared with everyone else, babyface Wisconsinite Dave is the most normal person at the station, along with reporter Lisa (Maura Tierney). Dave and Lisa's on-again-off-again relationship is a driving plotline and running joke throughout the series.
It's not surprising, then, that
NewsRadio
's strength is its ensemble. Each character is played expertly and lovingly, and each one has a unique, hilarious relationship with each other one. No one really spends more time with one specific person than any other, and you know that something between Bill and Lisa will be different from something between Bill and Beth, or Beth and Lisa, or Lisa and Matthew, or so on. It's a brilliant way to write a show that's really about its characters.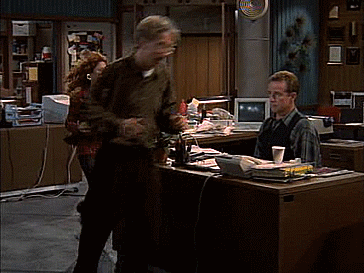 In that way, they get themselves into all kinds of unpredictable shenanigans, almost none of which has to do with work. Inspired by the Marx Brothers and theatrical farces, the show is deliberately shot almost entirely in wide angles, giving the actors as much room as possible to run in and out of shot, get in each other's way, and generally cause as much chaos as possible; even the production style is ruled by the characters.
Dave is stuck with the impossible task of wrangling everyone into at least getting
some
work done, but even his boss Jimmy gets in his way with his constant quest for a wife and attention-grabbing publicity stunts (which may or may not be related to the wife thing). Jimmy's inscrutable advice isn't much help, either. In season 4, things get so difficult that Dave tries to give his job to Lisa-- and she's not sure she wants it, either.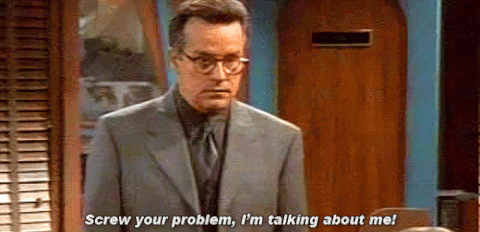 Unfortunately for
NewsRadio
, and for the world, things were upended when
Phil Hartman was tragically murdered by his wife.
In one of the saddest half-hours in sitcom history, the first episode of season 5 shows the gang returning to the station from Bill's funeral. As they sit around discussing how they felt about Bill, the grief from the actors is palpable. It's obvious they're not just talking about Bill, but about Hartman, who was clearly deeply loved by everyone on set.
Phil's place was later filled by friend and fellow SNL alum Jon Lovitz (who appeared in two other episodes as completely different characters) as Max, the oft-fired anchor only hired at WNYX because he may have worked with Bill once. Lovitz did as well as he could and had some genuinely very funny moments, but the show just couldn't be the same without Hartman's unique, lovable gravitas.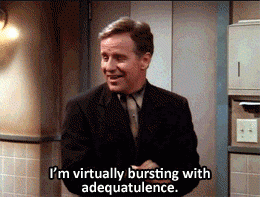 Unsurprisingly, the show ended at the end of the fifth season. To be honest, I don't think it would've lasted any longer than that even if Phil Hartman hadn't died. As funny and endearing as it was, it had started to run its course by the end of the fourth season, and sometimes the plotlines definitely ventured into jumping the shark territory. It was always entertaining, but it was never as good as the first three seasons. It didn't get far enough to qualify for my five-season theory, but it's easy enough to see that it wouldn't have passed. Just watch the weird Space (S3, Ep. 24) and Titanic (S4, Ep. 22) episodes and you'll see why.
There's something really special about a show that constantly thinks it's going to be cancelled. It means that no one is afraid to try something crazy, and it often leads to the best ideas. And it really worked for
NewsRadio
(
30 Rock
and
Arrested Development
are two other examples of that mindset really working). It's one of my favorite shows of all time, especially the first three seasons. It's hilarious, it's endearing, and it's just good fun. The characters and their relationships are special and unique, and the silly situations they get themselves into are somehow both relatable and nonsensical. The writing, the directing, the acting, everything is just special. It's a tragedy that things ended the way they did, but
NewsRadio
is a treasure that really deserves more lasting attention.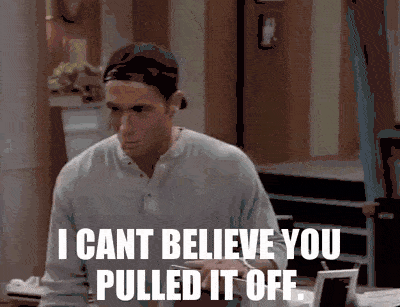 ~~~~~~~~~~~~~~~~~~~~~~~~~~~~
My favorite episode:
"Bitch Session," (S2, Ep. 12): This is a really great example of
NewsRadio
at its best. While picking something up from under his desk, Dave accidentally overhears everyone in the office complaining about him. He is distraught by what he hears, and turns to Jimmy James for help, but not before calling his mom. This episode has a little bit of everything that's great about the series. It's fun to see all of the characters joined together in making fun of Dave, and seeing Dave so vulnerable is a nice change from his usual position as weary boss. Plus, it's a great example of Jimmy's weird and inscrutable advice that somehow ends up saving the day.
Behind the Scenes:
Stay tuned for our next episode:
Monk
Previously on Of Sight, Sound, and Mind: